Seal pup rescued on Felixstowe beach by teenager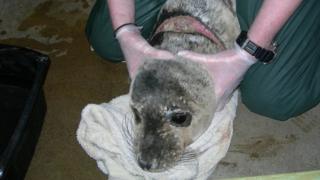 A seal pup rescued by a teenager after becoming tangled up in netting on a Suffolk beach is expected to spend two months recovering from injury.
The animal was saved by Catherine Wright's granddaughter at Landguard Fort in Felixstowe.
She said: "It seemed to be in distress, so I went home to get my 18-year-old granddaughter who volunteers for the Blue Cross animal centre."
The RSPCA is now looking after the grey seal at East Winch, Norfolk.
Ms Wright's granddaughter used scissors to cut away the netting which was around the animal's neck and has left a deep wound.
RSPCA officers arrived later and transferred the seal to its wildlife centre near King's Lynn.
'Lucky'
Alison Charles, centre manager, said: "It's great that the teenager tried to help the seal and reported it to us.
"However, she was lucky she didn't get bitten and we would recommend people don't try and do their own cutting of netting, because it might cause more bleeding, so they should leave it to the professionals.
"We're asking anglers or fishing crews to be careful and not discard nets because seals are protected and we don't like to see unnecessary injuries."
The RSPCA said the pup, which the charity has named King Niepold, was probably born in November or December and will be released back into the wild once has fully recovered.