Nowton Park horse and carriage death: Owner pleads guilty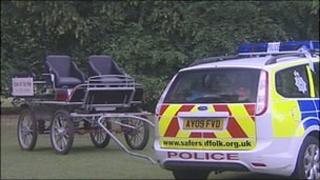 A horse and carriage owner has admitted breaching health and safety law after a woman was fatally injured when the horse bolted at a Suffolk fair.
Carol Bullett, 57, died after being struck by the runaway horse at Nowton Park, Bury St Edmunds in 2011.
Duncan Drye, 64, of Bishops Road in Bury admitted to the breach, at Ipswich Crown Court.
St Edmundsbury Borough Council, organiser of the fair, pleaded not guilty to the same charge.
Drye was offering carriage rides at the fair, when one of the horses bolted on Sunday, 19 June.
Ms Bullett, who lived in the town and was visually impaired, was hit and died from chest injuries at Addenbrooke's Hospital in Cambridge the next day.
An inquest last year ruled that her death was accidental.
The charge, under the Health & Safety At Work Act 1974, was that Drye failed to make sure visitors to the fair were not exposed to risks of injury or death from a loose horse and carriage.
Following its not guilty plea, the council is due to stand trial in November.