Head teacher Fiona Bromley banned from profession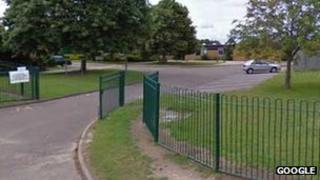 A Suffolk head teacher has been banned from the profession indefinitely for abusing her position.
A Teaching Agency professional conduct panel heard Fiona Bromley, 60, granted leave for herself without following guidelines when she was head of Howard Middle School in Bury St Edmunds.
She also failed to follow guidelines when appointing her sister.
A prohibition order, which was approved by the education secretary, cannot be reviewed for at least two years.
Ms Bromley was head at Howard Middle from 2005 but was suspended in 2010 after complaints from other staff.
'Serious departure'
Some of them felt they had had leave requests turned down unfairly when other staff and the head had been able to take leave.
The panel also heard she appointed her sister Patricia Milne as a teacher without an application form being completed.
The governors were not told she was a relative and pre-employment checks were not carried out before she started work.
The panel found there had been "a serious departure from the personal and professional conduct elements of the latest teachers' standards".
Education Secretary Michael Gove said: "She was in a position of significant responsibility and trust and has clearly abused that position over a considerable period of time."