Escort scam trial: Former fraud detective "on inside"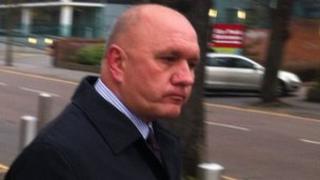 A former fraud squad detective was "on the inside" of a £5.7m escort agency and debt elimination scam, Ipswich Crown Court has heard.
Christopher Taylor, 57, who served with West Yorkshire Police, denies money laundering and conspiracy to defraud.
The jury heard thousands of people paid £300 to sign-up to be escorts, but they got no business in return.
Three other men and a woman, from Suffolk and Spain, also deny related charges.
The prosecution said various fake escort agency websites suggested people could earn £600 a night to be companions on non-sexual dinner dates.
Others, who owed money to credit card companies, were fleeced by paying upfront fees in the hope of eliminating their debts.
Spanish connection
The jury was told the fraudster at the helm of the conspiracy, a man called Toni Muldoon, confided in Taylor and used his bank account to acquire criminal proceeds to be transferred from the UK to Spain.
Mr Taylor, of Oxford Road, Wakefield, had been the director of 1st Direct Recovery and was friends with Muldoon.
The jury heard that Muldoon, a 66-year-old British national who lived in Spain, had admitted two charges of conspiracy to defraud.
Outlining the case, prosecutor Nic Lobbenberg said evidence would show Taylor was involved in discussions about buying a villa in Spain and providing other funds.
"Would Mr Muldoon confide such things with Mr Taylor unless he was on the inside?" he said.
"That demonstrates that Taylor is on the inside of what is going on in relation to these frauds."
Money laundering
Five people are on trial in a prosecution brought by Suffolk Trading Standards.
The other defendants are Mark Bell, 41, of Westerfield near Ipswich; Colin Samuels, 61, of Redgrave in Suffolk; Bradley Rogers, 29, of Malaga in Spain and Geraldine French, 60, of Gordon Road, Lowestoft.
All five defendants deny two charges of conspiracy to defraud and various money laundering offences.
The jury has been told their defence will be that they believed they were running legitimate honest businesses.
The trial is expected to last two months.