Angus McBean's photography auction 'exceeds estimates'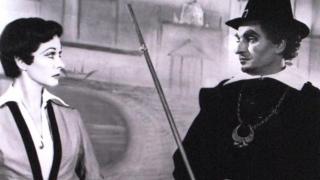 Work and possessions of the late British photographer Angus McBean has sold at auction in Suffolk for £88,000.
The 259 lots included test shots for a Beatles album cover and photos of film stars including Audrey Hepburn and Laurence Olivier.
The collection was sold by McBean's former partner who lived at Debenham, Suffolk.
The auctioneers in Bury St Edmunds estimated it would go for more than £50,000 and said they were "delighted".
'Photo-surrealism pioneer'
McBean photographed The Beatles looking over a stairwell for the cover of their debut album Please, Please Me released in 1963.
Two test shots for a recreation of that image for their 'blue' compilation album of 1970 sold for £650.
McBean's visitors' book for his London studio, signed by a myriad of stars, was estimated at £5,000-£10,000 and sold for £11,000.
It includes signatures and messages from The Beatles, lawyer and writer John Mortimer, playwright and songwriter Noel Coward and US photographer Robert Mapplethorpe among others.
Many other individuals photographs of film stars including Marlene Dietrich, Vivien Leigh and Audrey Hepburn were also sold.
Edward Crichton, auctioneer at Lacy, Scott & Knight, said: "We are absolutely delighted as only one item, a small bookcase painted by McBean failed to sell.
"The magic ingredient is the iconic stars of stage and screen, beautifully photographed by a pioneer of photo-surrealism who was in fact one of Britain's pre-eminent photographers of the mid 20th Century."
McBean was born in Wales in 1904 and lived at Flemings Hall, Bedingfield up to his death in 1990.
The auction house said he left his collection to his partner David Ball, who has just moved to Morocco and could not take it with him.
The buyers were a mixture of private collectors and museums.