Lowestoft child deaths: Post-mortem examinations awaited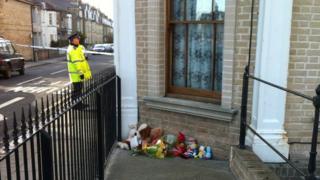 Detectives investigating the deaths of three young children found at a house in Suffolk are awaiting the results of post-mortem examinations.
The children were discovered in Lowestoft on Monday, shortly after a pregnant woman, believed to be their mother, was found dead.
Suffolk Police believe Fiona Anderson, thought to be in her 20s, fell from a multi-storey car park in the town.
Police say they do not believe there is "any threat to the wider community".
Ms Anderson was found with head injuries in Gordon Road just after 08:00 BST.
Paramedics attended but she was pronounced dead at the scene, near the Battery Green car park, police said.
The children, believed to be aged 11 months, two and three, were found at a house in London Road South, about a mile from where Ms Anderson died.
Police said post-mortem examinations on the children, who have not been named, would be carried out by a Home Office pathologist at the James Paget Hospital in Gorleston on Monday evening, into Tuesday.
'Open mind'
Their deaths are being treated as suspicious.
Det Supt John Brocklebank said: "We are in the early stages of a large investigation into what has happened.
"It is too early to be able to come up with a definitive explanation and we will be keeping an open mind.
"However, from our initial inquiries, we do not believe there is any threat to the wider community."
Officers said it was believed the three children were the children of the dead woman, and that she had been "heavily pregnant".
A force spokesman said the names of the children would not be released until formal identification had taken place.
Speaking outside the house, Craig McLelland, the children's father, thanked well-wishers for their support.
Karleigh Burlingham, 20, who said she knew Ms Anderson, said: "She must have been going through a really tough time - it's completely shocking.
"She adored them kids, adored them. She was outgoing and friendly."
Visiting the scene, Mayor of Lowestoft Nick Webb said: "It is just incomprehensible what has happened here. My heartfelt sympathies go out to the families of those who have lost their loved ones."