Lowestoft deaths: Mother 'jumped' from car park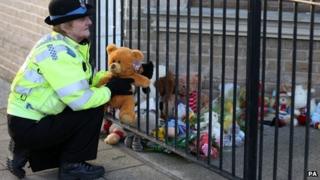 A mother was seen jumping to her death hours before her children were found dead in a bedroom at her Suffolk home, an inquest has heard.
A witness reported seeing their pregnant mother Fiona Anderson "jump" from a car park at about 08:00 BST on Monday.
Police discovered the bodies of Levina, three, Addy, two, and 11-month-old Kyden, in London Road South, Lowestoft at about 11:30 BST.
The inquest, in Ipswich, was adjourned until a later date.
Heavily pregnant Ms Anderson, who sustained head injuries, was pronounced dead at the scene in Gordon Road along with her unborn baby, the inquest was told.
Police entered her flat and found the bodies of the children in the "main bedroom".
Officers have said they are not looking for any suspects in relation to the deaths.
Police said on Thursday that more than 15 people had come forward following the release of CCTV footage of Ms Anderson.
It showed her dropping off a set of keys at the home of the children's father, Craig McLelland, in Belvedere Road, Lowestoft, at about 06:20 BST on Monday.