Babergh Council in Chilton Woods development pledge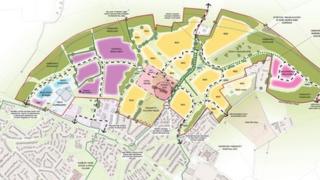 Support for efforts to get a 300-acre site developed has been pledged after a previous planning bid was withdrawn.
Redrow pulled its plans for 1,000 homes on the 329-acre (133-hectare) site at Chilton Woods, Sudbury, earlier this year.
Babergh District Council has sent a new development plan for the plot to the Planning Inspectorate.
The plan comes with a commitment to get a mix of homes, employment areas and a new community centre built there.
Lindsay Barker strategic director for the council, said the Chilton Woods scheme would "make a big contribution to a prosperous Sudbury".
The development plan makes a commitment to seek planning permission for the site.