Thomas Dolby's film commemorates Orfordness Lighthouse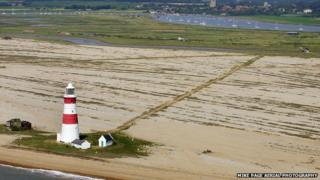 The final active weeks of a Suffolk lighthouse are being commemorated in film and music by a pop star who lives nearby.
Thomas Dolby, best known for his 1982 hit She Blinded Me with Science, will give the premiere of The Invisible Lighthouse at Aldeburgh Cinema on Friday, 3 May.
The film is a personal account of Orfordness lighthouse, which is due to be turned off at the end of June.
Its owner, Trinity House, is planning on leaving the Grade II-listed landmark to be eroded into the sea.
Dolby lives nearby on the coast and has a studio in a boat in his garden, just yards from the shingle beach.
He said: "I grew up with the flash of the lighthouse on my wall as I fell asleep and I found out to my horror that it was going to be decommissioned.
Clandestine filming
"It being closed down and being allowed to fall into the sea is symbolic of the erosion that's going on all along the coast."
Dolby said he landed clandestinely on Orford Ness (access is only supposed to be via the National Trust boat from Orford) and used a remote-controlled device to film himself and aerial shots.
"I'm very much a DIY film-maker and I taught myself to edit.
"It's a very personal piece of work about my own feelings and emotions about the closing of the lighthouse along with peripheral aspects such as the UFO landings at Rendlesham Forest."
A lighthouse was first built on Orford Ness in 1637 and the current one dates from 1792.
The last on-site lighthouse keeper left in 1965 when it became fully automated and operated from Harwich.
'10 years' left
Keith Seaman, 62, the current attendant for the lighthouse, said he had only had to visit it three times in the last couple of years.
"The last time I measured it 15 months ago, the lighthouse was 20.6m (67.5ft) from the sea and my best guess is that it had 10 years before it fell into the waves," he said.
"But who knows what the shingle will do?
"I heard that someone was making a film marking the end of the lighthouse for posterity, so it'll be interesting to see what the result is."
Orfordness lighthouse is being decommissioned because Southwold lighthouse, further up the Suffolk coast, has been fitted with a stronger beam.
Trinity House said moving the lighthouse in one piece was not possible because it would cause too much damage to the sensitive shingle spit habitat.