Gritting Suffolk's roads cost £800,000 more than planned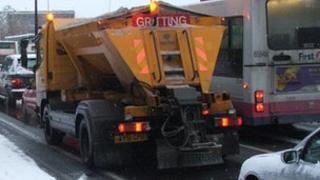 Harsh winter weather meant the cost of gritting Suffolk's roads was £800,000 over budget, the council has said.
The county council spent £3m when it had put £2.2m aside for gritting which began in October and also took place last weekend.
The council's highways department said it used twice as much salt in 2012-13 as the previous year.
Officers said the overspend would be balanced by the previous year's under spend and other savings.
Matt Riches, council highways manager, said: "This isn't just about dealing with snow, it's ice and frost and if air temperatures are 1C or 2C, road temperatures can be a couple of degrees below that.
"We'll have a thorough review and next year we'll be working with May Gurney so we will have discussions with them to make sure we're ready to deal with winter in the best way.
"Any overspend will be netted-off against any other under spends or planned savings made across the whole highways budget."