Horse-drawn tramcar restoration at Ipswich Transport Museum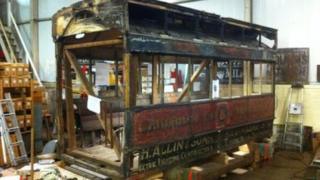 A horse-drawn tramcar from the 1880s is being brought back to its former glory in a five-year restoration project costing £56,000.
The tram was first in service in Bradford before operating in Cambridge from 1894 to 1914.
It was then sold at auction and used as a garden shed until Ipswich Transport Museum acquired it in 2003.
Mike Abbott, who is leading the restoration, said: "The intention is to restore it as a working exhibit."
The woodwork of the structure is said to be in good condition for "most part", but the corner pillars need to be replaced as well as most of the under frame.
Mr Abbott said the tram would have been, and will be again after the restoration, a double decker.
It would have been pulled by a single horse.
Adverts from the tramcar's time in Cambridge are still visible but other parts require more attention.
"This tram is very historic because it's the last remaining East Anglian horse tram that we know of in existence," Mr Abbott said.
"We've got to get seats for it, there's one in a museum in Cambridge so we're hoping to borrow that as a pattern.
"We haven't got the wheels, they were taken off in 1914."
A team of four of five volunteers will carry out the restoration, which has been helped by a £49,000 grant from the Heritage Lottery Fund.