Hadleigh church pews plan angers Victorian Society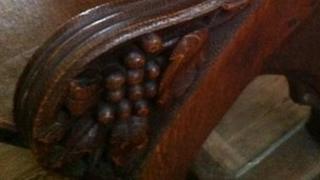 A Suffolk church's plans to replace its ornately carved pews with new chairs has angered a heritage conservation group.
The 77 pews at St Mary's in Hadleigh feature carvings of local flora on their ends.
The church is seeking permission to replace most of them with chairs to create a flexible nave space.
The Victorian Society said the church needs to incorporate the pews into the space rather than get rid of them.
The church is seeking permission from the Diocese of St Edmundsbury & Ipswich to get ride of 69 of the oak pews.
The seats, which date from the 1870s, have designs on their ends which were based on flowers gathered by local children.
'Woodworm and rot'
Tom Ashley, the Victorian Society's churches conservation adviser, said: "They're beautiful and historically significant.
"Buildings need to adapt and develop, but you have to do it carefully and show why you need to do it.
"We don't feel the church has done that yet and we want to work with them to achieve what they need without them doing more than they have to."
The church said the many of the pews have rot, woodworm or cracks.
The Very Reverend Martin Thrower, vicar of St Mary's, said: "We want chairs so that we have a flexible space for music, drama and exhibitions.
"It's not as though we want to rip every one out - we want to keep eight of the best quality pews for the Lady Chapel and recraft some of the others into new pieces of furniture."
Its plan was to sell the remaining pews.
The church said it had already consulted the community, English Heritage and the Society for the Protection of Ancient Buildings.
The diocese said it would take the Victorian Society's views into account before making its decision.