Sizewell B nuclear power station closes for refuelling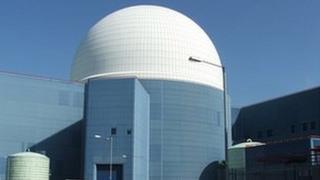 A nuclear power station on the Suffolk coast is shutting down for several weeks for refuelling and maintenance.
Sizewell B is being shut down on Friday for about five or six weeks as part of a planned "refuelling outage" which takes place every 18 months.
An additional 1,000 workers are being brought on to the site to carry out work while the plant is shut down.
Sizewell B, operated by EDF Energy, was opened in 1995 and generates enough power for more than two million homes.
Station director Jim Crawford said: "The reactor will shut down, then we take all the fuel out.
"We replace a certain amount of the fuel with new fuel to give us enough energy to keep going.
"Because we have to do the refuelling every few months, we take the opportunity to maintain and upgrade the plant so there will be some project work."
He said 14,000 tasks would be carried out during the shutdown.
Workers have been brought in from as far afield as France and the United States, but much of the work will be carried out by local contractors.
The plant usually employs 500 staff and 250 contractors.
Discussions about whether there will be a Sizewell C are continuing.
EDF Energy and the government have yet to reach agreement over how to finance the new generation of nuclear power stations.