Wattisham airbase: Prince Harry misses Prince Charles's medal presentation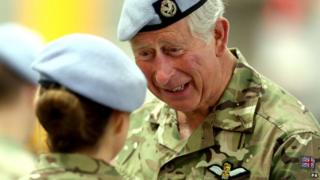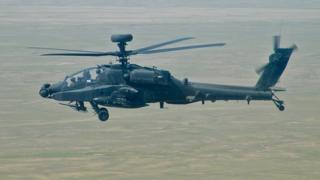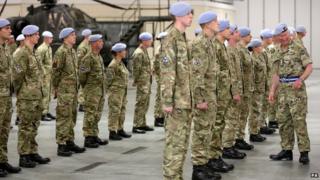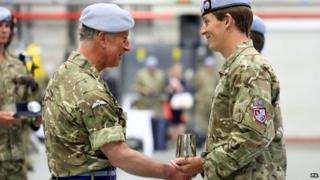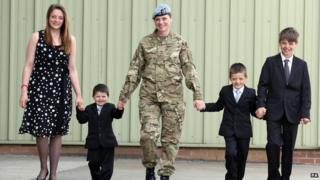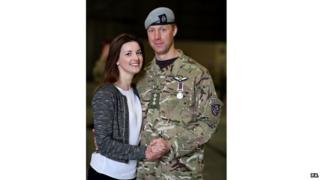 Prince Charles has presented medals to 40 soldiers at Wattisham Flying Station in Suffolk and joked about his son Prince Harry missing his visit.
Prince Harry, who is based at Wattisham, was in the USA.
Prince Charles said: "He shoved off, probably because he knew his ancient parents were coming."
The Prince of Wales was there as colonel-in-chief of the Army Air Corps, which provides air support to soldiers on the ground in Afghanistan.
Among those who were there was Prince Harry's wingman, Major Simon Beattie from Bath, who received the trophy for the air corps's best aircraft commander of the year.
Prince Charles told the parade: "It's a particular pleasure to see so many of 662 Squadron, which my youngest son serves in, on parade even though he is not here.
"Having heard from him about your remarkable exploits in Afghanistan I have some better understanding of just what you're all up to, the challenges you face and constant demands you are under."
Wedding plans
Capt Tom Brunwin, 31, from Reading, Berkshire, proposed to his partner Jo the day before he deployed to Afghanistan as an Apache helicopter pilot.
They married at a church in Bildeston near Wattisham on Saturday and are due to fly to South Africa on honeymoon.
"For me it was easy as I got to escape all the wedding admin, but it was great to be back just in time for the wedding and we had a wonderful day," he said.
"I was very lucky the planning worked out so that I could pick up my medal from Prince Charles."
Reservists from Bury St Edmunds-based 6 Regiment Army Air Corps, who deployed as ground crew with 662 Squadron, were also among the 40 soldiers who received medals.
L/Cpl Shelley Dockery, 35, a mother of four from Haverhill, Suffolk, works as a firefighter in the UK and has just returned from her first tour at Camp Bastion in Afghanistan.
She said: "I was away from January to May and deliberately planned it that way so I didn't miss Christmas at home.
"I had always wanted to join the Army and got to 30 and thought, if I don't do it now, I never will.
"There are hardships involved but I don't regret my decision at all."