Benjamin Britten's Red House grand piano reinstated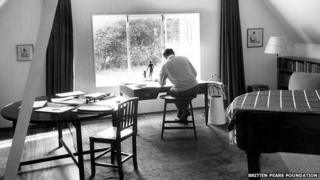 The return of composer Benjamin Britten's concert piano to his Suffolk home has marked a "milestone" in the property's £4.7m restoration project.
The piano, one of two the composer used at Red House, in Aldeburgh, has been returned to the library.
His "irreplaceable" baby grand piano will be winched into a recreation of his 1950s first-floor studio before the end of the month.
Staff said they were "a little nervous" about the work ahead of them.
Keith Gosling, of the Britten Pears Foundation (BPF), said: "The plan is to push the baby grand through a tri-folding window which opens to its full width, it was cleverly designed like this in the 1950s.
"This is the studio where Britten composed from the late 1950s to the early 70s, including his War Requiem.
"We're a little nervous about the prospect of hoisting his piano. It's a delicate instrument and completely irreplaceable so we're taking our time and doing it very carefully."
Britten, who was born in Lowestoft in 1913, lived in the Red House on Golf Lane with his partner Peter Pears, from 1957 until his death in 1976.
The BPF restoration of Red House includes work on Britten's composing studio to make it available to visitors for the first time, along with a comprehensive archive of his music manuscripts, photographs and sound recordings.
The 18-month project has been funded with a £1.4m grant from the Heritage Lottery Fund (HLF), with the rest coming from BPF.
'Cornucopia of music'
Dame Jenny Abramsky, chair of the HLF, said: "The Red House is not just bricks and mortar but rather a cornucopia of music, literature, art and learning brought together under one roof.
"It reflects the energy and joie de vivre of Benjamin Britten and his partner Peter Pears, and following a programme of conservation and redevelopment is now truly a fitting tribute to both men.
"We applaud the BPF for its plans to widen the appeal of the site to visitors, both tourists and those living more locally.
"Britten, meritocratic to his core, would have approved of this desire to share the house and its contents with people from all walks of life."
The restored Red House opens on 8 June.