Memorial planned for WWII codebreaker Bill Tutte in Newmarket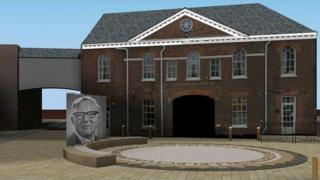 A codebreaker whose deciphering of secret German messages is said to have reduced World War II, is to be honoured in his hometown.
Bill Tutte helped crack the German Lorenz cipher at Bletchley Park, Buckinghamshire.
A £150,000 memorial is planned for Rutland Hill, Newmarket, Suffolk, and could be finished by Christmas.
Campaigners say Tutte never received the recognition he deserved.
Richard Fletcher, who lives in Newmarket and is secretary of the Bill Tutte Memorial Working Group, said Tutte came from "humble beginnings".
His "prodigious intellect" was recognised at an early age and, with the encouragement of his headmaster, he was offered a scholarship to a high school in Cambridge and later to the University of Cambridge.
"Purely because his headmaster recognised his abilities he went from the son of a gardener to a scholarship at Trinity, which is fantastic," Mr Fletcher said.
'Hitler's Blackberry'
He continued to excel as a mathematician and was recommended for an interview at Bletchley Park to work on codebreaking during the war.
"When he went to Bletchley Park he was interviewed by one Alan Turing," Mr Fletcher said.
"He didn't really like Bill Tutte and didn't think he was up for the job but luckily somebody saw his potential and did take him on board."
Turing is celebrated for his work in deciphering messages encrypted by the German Enigma machine.
But Mr Fletcher said Tutte's work was "arguably much more significant".
"He was involved in cracking a code which the Germans called Lorenz, Britain called it Tunny," he said.
"It was a teleprinter code much more complex than Enigma and was troubling the British from 1943 onwards.
"It was apparently unbreakable and has since been called Hitler's Blackberry, as it was used to send strategic information between high level headquarters and formations."
Mr Fletcher said Sir Winston Churchill believed the intelligence led to the allies winning the war in Europe two years earlier than otherwise.
Tutte died in 2002, less than 10 years after his contribution to World War II was made public.
Mr Fletcher said David Cameron wrote to Tutte's family last year to acknowledge his work, but said no awards were available to him posthumously.
"We owe him so much and the poor chap's had no recognition at all," Mr Fletcher said.
The memorial in Newmarket has been designed by Cambridge-based sculptor Harry Gray and takes the form of five stainless steel panels.
They are perforated, to resemble the punched paper tape Tutte was so familiar with, and when viewed from one particular direction reveal an image of Tutte's head and shoulders.
The memorial has received funding from local councils, including £40,000 from Suffolk County Council.
Mr Fletcher said he hoped a "lasting legacy" would also be provided by a scholarship scheme, run by the memorial working group.
He said their aim was to find a talented student from a "humble background" and provide them with the "best education possible".