Ipswich tourism surge leaves officials puzzled by success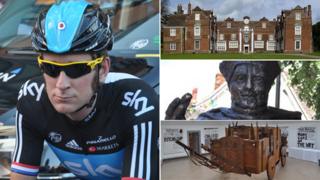 Officials have been unable to pinpoint what made Ipswich the UK's 43rd most popular destination for foreign visitors last year.
About 76,000 tourists visited the Suffolk town in 2012, up from 53,000 in 2011, according to Visit Britain.
The redeveloped waterfront, the town's cultural offerings and its key role in the Tour of Britain cycle race have been credited with attracting tourists.
Keith Brown, of Visit East Anglia, said: "I think it's a combined effort."
Mr Brown said festivals such as Ip-art and the Maritime Festival had put Ipswich on the "cultural map" and helped attract people to the town.
Ipswich's proximity to London - it takes just over an hour via train - makes it an easy destination for the 15 million people who visited the capital last year.
'Fantastically well'
But Ipswich's upturn cannot just be attributed to the success of the Olympics, according to Joss Croft, marketing director for Visit Britain.
He said: "In Olympic year you would actually see a decrease in the number of visitors, so Suffolk and Ipswich have done fantastically well to hold their own and actually increase their business."
It was not so good for Norwich, which despite being the 37th most visited destination in the country saw a fall in the number of tourists staying in the city - down from 88,000 in 2011 to 86,000.
Cambridge fared better. It was eighth in Visit England's table and saw its visitor numbers rise from 387,000 to 398,000.
Martin Pikes, who is chairman of the Ipswich and District Hotel Association and runs his own B&B, said Ipswich had made a name for itself with sporting events.
Last year the town hosted the first leg of the Tour of Britain, which was the first post-Olympic race for Sir Bradley Wiggins and attracted about 180,000 spectators, according to Suffolk County Council.
"We punch much bigger than our weight," Mr Pikes said.
"I totally take my hat off to the whole cultural scene, we don't actually shout about it enough."
Carol Jones, portfolio holder for economic development at Ipswich Borough Council, agreed that more could be done to attract people to the town.
"We could definitely do better," she said.
"Attracting people from the waterfront to walk up to the town to Christchurch Mansion, to the park, to the museum, that's the way of doing it I think.
"Our tourist information centre has really popular guided tours - advertising them takes people to the little hidden treasures of the town."