Mayor Terry Buckle 'blames brakes' for Tesco car crash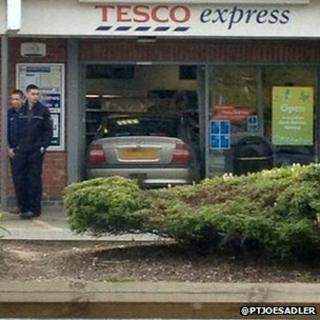 A mayor who drove through the doors of his local Tesco Express is blaming his car's brakes, his colleague has said.
Councillor Terry Buckle, the new mayor of St Edmundsbury in Suffolk, drove into the store at Lawson Place, Moreton Hall, on Tuesday afternoon.
He was taken to West Suffolk Hospital with minor injuries.
His colleague, Councillor Frank Warby, told BBC Radio Suffolk: "He tells me he went to park his car, the brakes failed and the car carried forward."
Mr Buckle has been discharged from hospital and is now resting at home.
Tesco said nobody was hurt and that it was now considering "options for bollards" at the entrance.
Suffolk Police said officers were called to the store, which is on the outskirts of Bury St Edmunds, at 16:35 BST on Tuesday.
'Words of advice'
Moreton Hall councillor Mr Warby said: "Luckily enough it was an automatic sliding door that opened as he went forward, causing minimum damage to the car and to the store itself.
"Terry was shaken up and taken to hospital, but sent home later on."
Suffolk Police said there would be no further investigation but "words of advice" had been given to the driver.
Eyewitness Joe Sadler, a fitness instructor from Newmarket, said: "I was sitting in my car looking at stuff on my phone and when I looked up there was a car sitting in the doorway of the shop - there was no sound or anything, it was just there.
"I've been posting fitness articles on Twitter for years and get the odd retweet if I'm lucky. I post one picture of a car in Tesco and my Twitter profile has never been so busy."
A Tesco spokesman said the doors of the store were broken but there was "hardly any damage" to the car.
He said: "We wish the driver a speedy recovery and are relieved that none of our other customers or colleagues were hurt during this incident."