Long Melford milestone returned after photo recognition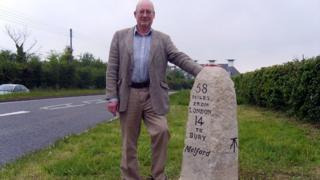 A 200-year-old milestone which had been forgotten about until it was spotted in a photo has been found and restored.
The stone sign, which informs passersby that they are 58 miles from London and 14 miles from Bury St Edmunds, is back on display in Long Melford, Suffolk.
Local historian John Nunn said the milestone was spotted in a batch of 500 old photos he was recently given.
"It's taken approximately a month to go from finding the stone to having it back in place," he said.
The photos were amongst artefacts passed on to Mr Nunn and the Long Melford Heritage Centre by the family of Tom Howlett, who was a local policeman and keen archaeologist in the 1970s.
"A couple of photos concerned this milestone on Rodbridge Hill, which I couldn't remember being there," Mr Nunn said.
He went to the location along with fellow historian Rob Simpson and found the milestone in a hedge.
They then set about restoring it with the help of the community.
"My friend Simon Webb took the milestone to his yard and pressure washed the stone," Mr Nunn said.
"A local artist, Vernon Lever, painted the lettering on to the stone and builder Shane Green put a plinth at the bottom of the stone."
The milestone, which is thought to date back to about 1788, is now back on the roadside.
Mr Nunn said he presumed the original was knocked out of place by a hedge cutter and forgotten about.