Ipswich electric trolleybus restoration completed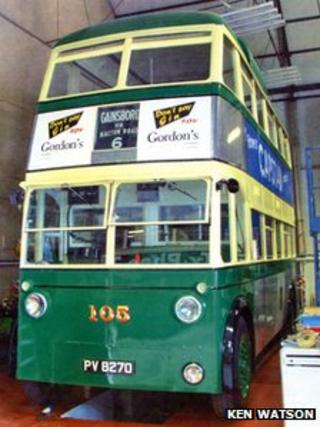 An electric trolleybus that was last in active service 50 years ago has been restored.
For the past 10 years, staff at the Ipswich Transport Museum have been working on trolleybus 105.
First used in 1948, the trolleybus carried its last passengers in 1963 when the towns' overhead wires were switched off.
It was then used as a mobile canteen before it was acquired by the museum in 1971.
The restoration has included a structural rebuild, new seats, new wiring, motor overhaul and brake replacement.
'Amazing job'
Ken Watson, a retired coach driver who led the project, said: 'I'm pleased we've done it at last. It's been a major effort, but worth it."
He estimates 50,000 hours of work have been lavished on the trolleybus and the restoration has cost more than £25,000.
Ken Hammond, 69, who travelled on the very last Ipswich trolleybus in 1963, said: "This brings back memories for me.
"The team has done an amazing job - this is just how I remember our 'trolleys'."