Sudbury Magistrates' Court auctioned for £112,000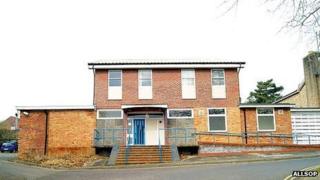 An empty courthouse in Suffolk has been sold at auction for £112,000.
Sudbury Magistrates' Court was auctioned by property consultants Allsop at the Cumberland Hotel in London, on Thursday.
The building is connected to the town's police station and includes two court rooms, a magistrates' retiring room, probation office and reception areas.
The site in Acton Road closed in April 2011 and was put up for sale by HM Courts Service.
Cases were transferred to courts in Bury St Edmunds and Ipswich.
The old courthouse is linked to the police station and its holding cells by a sealed door.
Jennifer Mortimer, from Allsop, said: "We had a great deal of interest [in the property] and bidding was fierce.
"We do get unusual properties like water towers or bunkers to auction, but I don't think we've auctioned a courthouse before."
Before the sale Simon Hepworth, who was handling the sale for Allsop, said the property could be used for housing or offices.