Sizewell C must be 'exemplar', Suffolk County Council to hear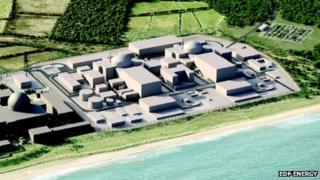 A conservation organisation has demanded a nuclear power station planned for Suffolk be an "environmental exemplar" if built.
Talks between EDF and the Government over the proposed Sizewell C - to go next to Sizewell B - are continuing.
The site is overseen by a body called the Suffolk Coast and Heaths Area of Outstanding Natural Beauty (AONB).
The organisation said the AONB was worth £234m to the Suffolk economy and had to be protected.
In his report to Suffolk County Council, Simon Amstutz, the interim Suffolk Coast and Heaths AONB manager, said those involved in protecting the AONB had to work "constructively with developers".
He said the county council and the AONB had worked together in telling EDF that Sizewell C "must be managed as an environmental exemplar".
'Quality pork'
EDF has voiced its commitment "to maintaining the quality of the natural environment around the Sizewell site".
Mr Amstutz said minimising any damage from the proposed Sizewell C development near Leiston was just one of a number of challenges faced by those involved in the AONB.
Other key concerns include getting power lines placed below ground and fostering more sustainable pig farming.
The report said: "Outdoor pigs are certainly favoured by the market and Suffolk has a widespread reputation for its quality pork.
"There can be landscape impacts associated with this success though, as the pens, straw stacks and fencing can become dominant in the landscape.
"Pig units on valley-sides are also vulnerable to run-off, resulting in soil loss and diffuse pollution."