Judge John Devaux attacked at Ipswich Crown Court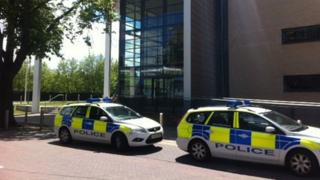 A judge's wig came off when he was attacked in court by the brother of a man he had just jailed.
Paul Graham, 27, stripped to his vest before "battering the hell" out of Judge John Devaux at Ipswich Crown Court, according to an eyewitness.
The judge had just jailed Mr Graham's brother for two-and-a-half years for causing death by dangerous driving.
Paul Graham later appeared before the judge and was remanded in custody to return to court on Tuesday.
Judge Devaux told the court: "It's an incident which does not occur every day."
The attack happened in courtroom two at about 10:45 BST as the judge was sentencing Philip Graham, 30, of Quendon Place, Haverhill, Suffolk.
'Extremely horrific'
A jury had earlier found him guilty of causing the death by dangerous driving of Derek Foster, 37, of Winstanley Road, Saffron Walden, Essex.
He died in a crash on the B1054 at Hempstead, near Saffron Walden, in July 2012.
Jaimie Budd, who was in the public gallery, said Paul Graham removed his top to reveal a black vest after the judge passed sentence on his brother.
"We thought that he was going to reveal some sort of statement or tribute, but instead he got up and ran to the judge's bench," she said.
"He ran up the steps and started battering the hell out of the judge.
"He pulled his robes, his wig came off. It was extremely horrific."
She said Mr Graham, of Haverhill, said that his brother had been victim of an "injustice" and shouted: "Arrest me."
Sitting alongside the judge at the time of the attack was Sir Edward Greenwell, High Sheriff of Suffolk, and his chaplain, the Reverend Robin Alderson.
Another eyewitness, John Weston, said: "I looked into the court and saw a couple of chairs had been turned over.
"I was grabbed on the back and told to 'wait' by two security guards who rushed past me."
Eyes closed
Two Essex Police officers in court for the sentencing hearing intervened.
The plucky judge returned to court minutes after the assault to hear the next listed case.
He told the court: "I think we're all unharmed."
Paul Graham was arrested on suspicion of assault and contempt of court and appeared before the judge, handcuffed to two police officers.
Still dressed in his black vest, with blood on his left elbow, he kept his eyes closed throughout the hearing.
Judge Devaux told the court: "It's not right I should deal with this case."
Mr Graham was remanded in custody to reappear before the court on Tuesday morning.
Ipswich MP Ben Gummer said Judge Devaux was a "pillar of the community in Ipswich".
"This is an appalling thing to have happened to a man dispensing justice on behalf of the community," he said.
"I hope there's a review in Ipswich as to what happened."