Christopher Thompson murder trial: Man killed after 'drink-fuelled row'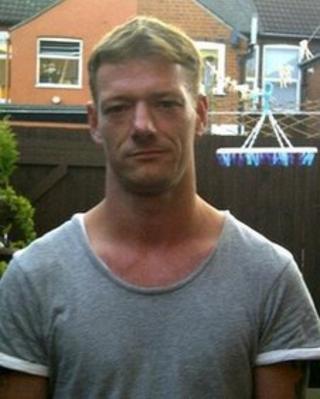 A man who had been sleeping rough was murdered by a homeless couple following a drink-fuelled argument, Ipswich Crown Court has heard.
Christopher Thompson, 35, spent the night drinking with Christopher Wilson and Deanna Stanton before they attacked and killed him, the court was told.
His body was found by a man walking his dog in Chantry Park, Ipswich, on 15 November.
Mr Wilson, 34, and Ms Stanton, 27, both deny murdering Mr Thompson.
Benjamin Aina, prosecuting, said Mr Thompson had been sleeping "wherever he could find shelter" and headed to Chantry Park after having an argument with his mother and his sister.
He met with Stefan Arbon, who had been sleeping in a tent in the park, before becoming acquainted with the two defendants.
'Dragged body'
They all spent time drinking in Mr Arbon's tent before walking to Tesco, Copdock, to buy more alcohol, Mr Aina said.
They had separated from Mr Arbon by the time they returned to the park.
Mr Aina said Mr Wilson and Ms Stanton went on to have an argument with Mr Thompson in the park before attacking him.
"They were both jointly responsible for his beating and the Crown says it was Wilson who was responsible for strangling him to death," Mr Aina said.
A post mortem examination concluded he died as a result of an assault.
Mr Aina said police believed Mr Thompson's body had been dragged along the grass of the park towards a pond.
Nearby, officers found a discarded blue coat which contained documents and identification belonging to Mr Wilson.
"This was Mr Wilson's coat he was wearing at the time of the attack," Mr Aina said, adding that CCTV footage had shown him wearing the coat before the attack.
"Why would Mr Wilson discard such a heavy jacket on such a cold night?" he said.
Mr Wilson also denies a charge of perverting the course of justice.
The trial continues.