Stowmarket redevelopment deemed 'not viable'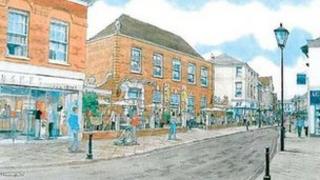 A Suffolk town has missed the opportunity of a £12m redevelopment project.
About a dozen shops and the United Reformed Church were to be knocked down as part of the overhaul of Ipswich Street in Stowmarket.
Mid Suffolk District Council says concerns about the proposal have been overcome but it no longer feels the project is viable.
It said the redevelopment would be shelved until "the market improves".
Planning inspectors rejected the council's bid for a compulsory purchase order on the shops in 2010.
"Since then the issues between the developer and the United Reform Church were resolved amicably but recession hit and in the current climate the scheme is not viable," a spokesperson for the council said.
"Town centre retailing is not achieving the returns it was in 2008 and the rental values that could be expected would not cover the development costs - in short the opportunity was lost."
Stowmarket town centre manager Sharon Brown said it was "disappointing".
"It's not a big surprise for us," she said. "In the current economic climate we weren't expecting somebody to invest that much money without knowing they would get full occupancy on the units."
Ms Brown said all of the shops earmarked for closure were currently occupied and doing well.