Stowmarket's Cedars Park estate gets community centre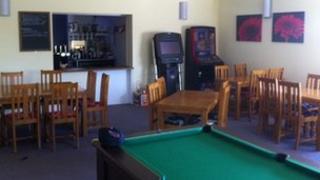 A Stowmarket housing estate is getting a community centre - 10 years after the first homes were built.
The Cedars Park Community Centre is next to the estate's primary school and it includes a bar and restaurant.
Funding of £950,000 has come from the housing estate developers, but it will be run by residents as a community interest company (CIC).
It will eventually include a football pitch but that will not be ready for another year.
The estate currently has 1,800 homes and has planning permission to expand to 2,500.
Dusty Miller, chairman of the CIC, said: "This estate has been here for a decade and it desperately needs a focal point for the community.
"It will be commercially viable as we're franchising out the bar and catering, running a pre-school and the letting rooms will also give us an income stream.
"The Cedars Park football team are looking forward to playing on the pitch, but although it's levelled and seeded it's not ready yet and they're going to have to wait for it."
The centre on Pintail Road is owned by Mid Suffolk District Council which secured the Section 106 funding from the housing developers.
The CIC leases the building and facilities, and residents are invited to join the company for £1.
The official opening of the centre is at 12:00 BST on Saturday 8 June.