Ipswich striker Paul Taylor admits pub fight assault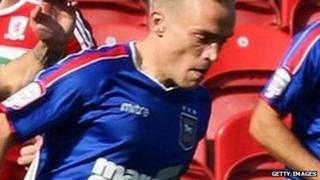 Ipswich Town striker Paul Taylor has admitted assaulting a man in a fight in a pub in the town.
Paul Taylor, 25, of Rendlesham, Suffolk, pleaded guilty to assault causing actual bodily harm on 30-year-old Shaun Grey in October.
He was granted bail at Ipswich Crown Court on the condition he does not go to the Robert Ransome pub.
A second defendant admitted two assaults.
Olatunde Ademuyiwa, 24, of Beechway in Liverpool, is charged in relation to the same attack and an assault on Gary Harper, who sustained a cut to the head and a broken rib.
Judge Rupert Overbury was told Taylor had no previous convictions involving violence and that what happened in the pub was on CCTV.
They will both be sentenced on 25 June.
Mr Taylor has been out of the Ipswich Town squad since breaking a foot during the 2-0 defeat at home to Wolves on 19 September.
He has played just three times since completing his move from fellow Championship side Peterborough United in August.