Ipswich mobility scooter crash cyclist in clearer rules call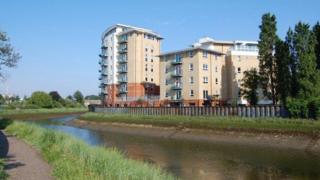 A cyclist who was forced off a path and into a river is calling for clearer rules over mobility scooters.
Richard Mudie, 29, was riding along a path beside the River Orwell in Ipswich when the accident happened last week.
He tried to make room for an elderly woman on a red mobility scooter but ended up in the river, suffering cuts and bruises.
Police are treating it as a failure to stop after an accident and have appealed for witnesses.
'Really narrow'
Mr Mudie, a valet for BMW, said: "I was on my way to an out-of-hours surgery because I've got a bug and it was getting worse.
"The path there is really narrow. I tried to make way for the woman on the mobility scooter but ended up slipping into the water."
He said the issue of who has right of way on narrow paths was something which "needs to be sorted".
"I'm self-employed," he said, "so I might have lost my job over this."
By law, mobility scooters are not allowed on paths marked "cycle only" and are limited to 4mph on footpaths and pedestrian areas.
Suffolk Police said the scooter driver, believed to be between 70 and 80 years old, failed to stop after last Monday's accident.