Trimley Marshes twitchers 'overwhelm' bird reserve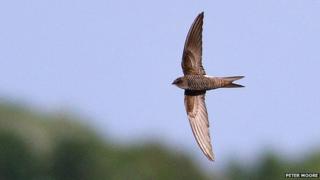 A nature reserve in Suffolk was overwhelmed by hundreds of bird-watchers who arrived to catch a glimpse of a rare bird.
Police were called as the twitchers descended on the reserve at Trimley Marshes at the sighting of a Pacific swift, a species rarely seen in the UK.
The small car park was overrun on Saturday and the traffic chaos spread to the nearby Trimley villages.
Residents were concerned about the way visitors were parking.
'Message to twitchers'
A spokesman for Suffolk Police said "We were called at about 13:25 BST on Saturday.
"There were lots of cars in an area which isn't used to that amount of traffic.
"We sent officers to manage the traffic and managed to send a message out to the twitcher community asking them to park more considerately."
Officers also went to the reserve on Sunday as the bird-watchers continued to visit.
It is thought to be only the seventh or eighth time there has been a recorded sighting of the Pacific swift in the UK.
The species' breeding range stretches from central Siberia to Japan, with wintering grounds in Asia and Australasia.