Tractor theft leads farmer to spend £10,000 on security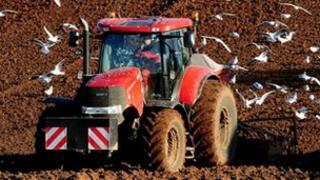 A Suffolk farmer has spent £10,000 on security because of fears "organised criminals" are targeting his business.
Thieves took Colin Clifton-Brown's tractor from his farm near Haverhill. It was later found in Cambridgeshire.
He has since spent the money on alarms for buildings and diesel tanks and on fences to create a secure compound.
Insurer NFU Mutual said there was 35% rise in tractor thefts in the first two months of this year, compared with the same months last year.
Mr Clifton-Brown's £45,000 tractor, which was stolen at harvest time, was found by the police in a shed in the Fens.
He said: "We think they drove it away on a low-loader as it didn't have sophisticated locking system like cars.
"That was a bit of a wake-up call.
"To be honest, these organised criminals have blow torches and angle-grinders and if they want to get in they will, but our new measures are a deterrent."
No 'epidemic'
NFU Mutual said for commercial reasons it would not give out figures for the actual number of tractors stolen year-on-year.
The insurer said it had provided £400,000 funding over the past two years for the police's Vehicle Crime Intelligence Service and the Plant & Agricultural National Intelligence Unit (PANIU).
PANIU said its figures showed 67 tractors were stolen across the UK between October and December last year, compared with 49 for the previous three months.
Suffolk's Chief Constable Douglas Paxton said: "This is not an epidemic, but it's important that we do the basics.
"The public needs to report anything suspicious, such as low loaders going around the countryside at 2 o'clock in the morning, while farmers should carry out property-marking, fit tracking devices and join our schemes such as Farmwatch."
Suffolk police said two tractors had been stolen in the county so far this year.