Escort scam trial: Ex-detective Christopher Taylor downfall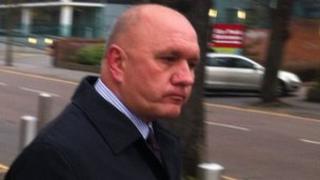 It was supposed to be the perfect new career for a long-serving detective.
Instead of chasing criminals, Christopher Taylor would be chasing debtors by setting up his own debt recovery business in Wakefield.
Now the 57-year-old is facing prison after being found guilty of money laundering in a £5.7m scam. Not only is his new career in tatters, but his police record disgraced.
Former West Yorkshire Police Det Sgt Christopher Taylor's downfall began in a holiday bar in the Costa del Sol, a region full of expats.
It was there he met a man called Toni Muldoon. Within an hour friendly banter had turned into a business deal.
Muldoon was a notorious timeshare conman with a fraud conviction.
He needed the help of UK businesses, and would use their bank accounts to launder the proceeds of his scams.
But why did a streetwise detective who'd spent time on secondment to the Fraud Squad be so apparently naive?
Certainly when Suffolk Trading Standards raided his home and office in Wakefield they found Taylor had saved press cuttings about Muldoon's timeshare crimes on his computer.
And one further clue: Taylor had begun writing a biography on Muldoon. He called it Born to be a Costa Conman. Clearly, he was fascinated.
And so Muldoon was allowed access to the account of Taylor's business First Debt Recovery Ltd.
Taylor, of Oxford Road, Wakefield, also ran a legitimate debt service, collecting £500,000 for clients.
But Muldoon, who has admitted conspiracy to defraud, also laundered money collected in upfront fees from fake escort websites. And £100,000 was removed to Spain.
In court the former detective, who was one of five defendants, denied any knowledge of an escort business and said he thought the Spanish debt business was legitimate.
He had high hopes of expanding First Debt Recovery and franchising it to other retiring police officers.
But there is no doubt that Taylor, who is married to a serving officer in the same force, regrets his holiday friendship, saying of the Costa conman: " I hate him for what he has done to me and my family."