Garry Cowan jailed for Andrew Farndon gunpoint breakout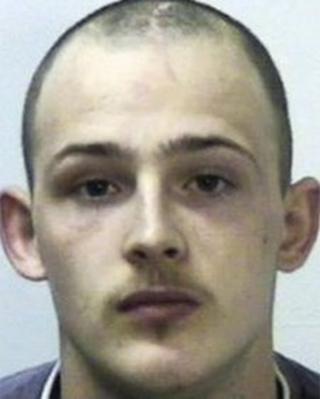 An ex-convict responsible for almost 500 offences has been jailed for 10 years for breaking his cellmate out of prison in a gunpoint raid.
Garry Cowan, 44, held a replica handgun to a prison officer's head as she accompanied Andrew Farndon to hospital in January 2012.
The pair had shared a cell at Highpoint Prison in Stradishall, Suffolk.
Farndon, 27, was jailed for six years in May for attempting to hijack two cars while on the run from the prison.
He and Cowan were convicted over the escape in December at the Old Bailey, but sentencing was delayed by a series of medical reports into Farndon's sanity.
He had been serving an indefinite term for smashing a motorist's head with a claw hammer and baseball bat.
The pair hatched a plot to free Farndon from jail once Cowan was released, the court heard.
'I will shoot'
On 25 January last year, Farndon gave himself a 24cm (9in) cut across his shoulder and told prison guards he had been attacked in a toilet.
He was taken to West Suffolk Hospital in Bury St Edmunds, where Cowan was waiting.
As Farndon got out of a taxi with two guards, Cowan, originally from St Andrews, Scotland, levelled the gun at prison officer Kim Lockwood, who was handcuffed to Farndon.
Prosecutor Gregory Perrins said Cowan had told Ms Lockwood: "You've got 30 seconds to get it off or I will shoot you."
The prison officer told the court she thought she was going to die.
As the pair fled towards a Ford Escort, Cowan shouted that he would fire if they were followed.
Police searched the area and found a homemade balaclava with Cowan's DNA on it.
That evening traffic cameras picked them up driving through Cambridgeshire and they were tracked going to Scotland.
Cowan, who began offending in 1983, was arrested in the home of another ex-convict at 02:00 GMT on 28 January in New Cumnock, East Ayrshire.
Personality disorders
He gave officers a false name and address.
Police, however, found a "blueprint" for the raid with a list of items needed.
Cowan denied assisting an offender and possessing an imitation firearm with intent to cause fear of violence but was convicted by a jury.
Farndon, who has been diagnosed as having two severe personality disorders, admitted escaping from custody.
He said his motivation for the jailbreak was to give his sick mother his kidney as she needed a transplant.
Farndon is due to be sentenced on 2 July.
Cowan, a former heroin addict, has 41 convictions for 481 offences committed under 10 aliases.
Sentencing him on Tuesday to successive sentences of three years for possession of the firearm and seven years for assisting an offender, Judge Nicholas Hilliard QC said the break-out took considerable planning.
"This wasn't to be an escape from the building but more serious through the threat of force," he said.
The judge commended Ms Lockwood and her colleague Chris Matson for their professionalism.