Ipswich paramedic hammer attack: Patricia Gosling jailed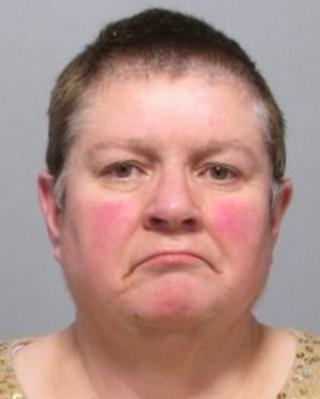 A woman with a history of mental illness has been jailed for attacking a paramedic with a hammer in Ipswich.
Patricia Gosling, 55, set upon Emma Cornford with a claw hammer, leaving it embedded in her hand during a call out to Roundwood Road.
She admitted unlawful wounding, but last month the jury at Ipswich Crown Court found her guilty of grievous bodily harm with intent.
Gosling was sentenced to five years and 10 months in jail.
The two-day trial heard the ambulance service was called to Gosling's home in November after she complained of chest pains.
The court heard Gosling had a long history of mental health problems and when Ms Cornford referred her back to her GP she became aggressive.
'Incredibly painful'
The court heard Gosling said: "I'm going to hit you with a hammer. That's what I do to people like you."
The claw of the hammer hit the paramedic's right hand as she held it up to protect her head.
She was struck again on the back with the blunt end of the hammer as she ran away.
Ms Cornford had surgery following the attack, but said she still has no feeling in her middle finger.
Speaking after the sentence, she said: "It was incredibly painful and when she withdrew the hammer my hand went with it.
"It was the most scared I've ever been at work and it's not a nice experience.
"As long as she serves a custodial sentence I'm happy. I'm relieved it's all over and I can start to move on with my recovery."
Counselling
The East of England Ambulance Service, which serves Norfolk, Suffolk, Essex, Cambridgeshire, Bedfordshire and Hertfordshire, said 140 staff had been assaulted 2011-12.
A spokesman said: "Our staff are out in the region everyday trying to do their job.
"The use of violence against them is truly saddening and utterly unacceptable and we work closely with the region's police to ensure the perpetrators are brought to justice."
Ms Cornford, who began her career as a paramedic 10 years ago in Rayleigh, Essex, said she was undergoing counselling and physiotherapy.
"I do want to get back to my job - I do enjoy it," she said.