Corton cliff collapse to be investigated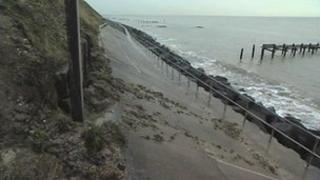 Work has begun to see if a stretch of a sea wall pathway in Suffolk, where part of the cliff collapsed earlier this year, can be re-opened.
A section of the promenade near Tibbenham's Score in Corton had to be closed when the winter weather caused the landslip in January.
Now the debris that fell onto the path will be cleared to allow an inspection of the cliff wall.
The work by Waveney District Council could take up to four weeks.
Coastal manager Bill Parker said the investigations were necessary to see how bad the landslip was.
"The problem of Corton cliff is that it is made up of very soft sand, but there is a layer of clay that runs through it about 4m (13ft) from the top," he said.
"So much rain came down [in the winter] that it saturated the soil and effectively the top part of the cliff slid down."
Mr Parker said they had to clear the debris on the promenade and repair broken handrails.
"Until we've done that and had a really good look we don't know quite when we'll be able to re-open it to the public," he said.
However, Mr Parker warned the path may never again be able to be open all year round.
"If we get bad weather like we did last winter we might have to close it so that people aren't put at risk when they're down there," he said.