Ipswich Town says it has disciplined Paul Taylor after assault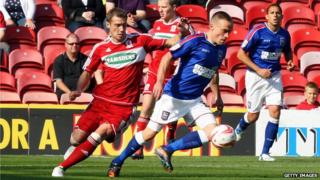 Ipswich Town striker Paul Taylor has been disciplined by the club and warned about his future conduct.
The 25-year-old was given a suspended prison sentence on Tuesday after he admitted assaulting a pub doorman during a drunken night out.
Ipswich Town would not elaborate on the disciplinary measures but said Taylor volunteered to take part in community activities on behalf of the club.
Taylor said he was keen to move on after a "difficult six months".
The assault happened at the Robert Ransome pub in Ipswich in October, about two months after he had signed from Peterborough.
But he played only three games for Ipswich before getting injured.
"With my injury coming just a few weeks after I joined Ipswich, it was a really frustrating time for me," Taylor told the club website.
"I made a mistake and I have apologised to the club."
Jonathan Symonds, joint managing director, said Taylor had been "made aware of his responsibilities".