Suffolk New College ends leisure learning courses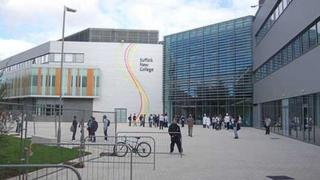 Students say they are "extremely disappointed" by Suffolk New College's decision to end its leisure learning courses.
The college, which is based in Ipswich, had about 80 courses on its prospectus at the start of the academic year.
But it says the courses, which are mostly held in the evenings, had seen a "significant reduction in enrolments".
One student said it was a "shame" that people who work in the day would miss the "chance to learn new skills".
The courses ranged from practical skills including jewellery making and flower arranging to foreign languages and an introduction to psychology.
'Very frustrating'
In a letter to students, the college said changes to "government priorities" had put a stronger emphasis on providing courses which result in qualifications.
"The college has a new part-time provision which includes some areas that cross over with the previous leisure learning offer such as languages," the letter said.
The college promised to support tutors and students to find alternative venues should they wish to continue their learning.
But one student, who wanted to remain anonymous, said the college was failing to make the most of its resources.
"The cancellation of leisure learning courses really is very frustrating," the student said.
"Suffolk New College has invested a lot in its new building and facilities, so to not use these to their full potential and offer courses to as many local people as possible undermines this investment."