Network Rail fined after Beccles level crossing crash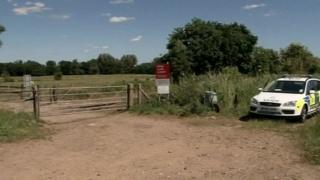 A rail company has been fined £500,000 after a boy was seriously injured in an accident on a Suffolk level crossing.
James How, who was 10-years-old, was a passenger in a pick-up truck that was hit by a train on an unmanned level crossing near Beccles in 2010.
Network Rail pleaded guilty at Ipswich Crown Court to breaching health and safety law.
The court heard the crossing did not have a phone in place so that people could check if trains were due.
The 10-year-old was in a vehicle being driven by his grandfather Richard Wright on a private farm road on 3 July 2010.
The road crosses the East Suffolk line at Barnby near Beccles and the gates have to be opened by hand.
'Unconscious'
The court heard the train was travelling at 55mph (90km/h) and James was thrown from the vehicle and had serious head injuries after landing on the track.
He was treated at the James Pagett Hospital, Gorleston where he was unconscious for a week and only given a 5% chance of survival.
The case was brought by the Office of Rail Regulation (ORR), which said the crash was caused by poor visibility when people were crossing from the south side.
Speaking after the sentence, Ian Prosser, ORR director of safety, said: "Our investigation found evidence Network Rail knew the crossing was unsafe for ten years, and yet took no action.
"This is unacceptable from a company responsible for protecting the safety of millions."
The company, which apologised to James's family in court, was also ordered to pay £23,500 costs.
Telephone installed
Richard Schofield, Network Rail's route managing director, said: "Fundamental changes to the way we manage the region's level crossings have been made.
"We have a nationwide programme investing £130m to upgrade or close level crossings where possible."
The company said the Barnby level crossing remained in use, but had had a telephone fitted in 2011 and one of the gates had been moved closer to the track to improve the view of approaching trains.
The court heard that James How had returned to school, but he still has problems with concentration and short-term memory.