Kelsale level crossing crash man's actions praised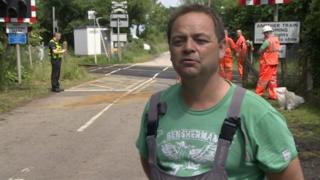 A man who put out a car fire at a level crossing crash near his home has been praised by Suffolk Fire and Rescue Service.
A car was hit by a train near Saxmundham on Saturday morning and the driver was taken to hospital.
Neighbour Paul Sheridan put out the car engine fire using his own extinguisher before the emergency services arrived.
The fire service said it praised "quick action and bravery" by the public when life was in danger, but urged caution.
Mr Sheridan, who lives next to the crossing at Fordley Road, North Green near Kelsale, said: "When the incident happened my wife was on the phone [to the emergency services].
"I quickly came out and the car's engine was on fire and I put it out with a fire extinguisher.
"Within 20 minutes, the emergency services arrived and were cutting pieces of the vehicle away - it was a very lucky escape."
'Chance it'
The driver of the vehicle, a man in his 20s, was freed and taken to Ipswich Hospital with serious injuries.
A fire service spokesperson said: "When there is a life to save, and it is safe to do so, the quick action and bravery of members of the public is praised.
"We would always urge the public to be extremely careful when facing dangerous situations, and not to attempt any rescue without relevant equipment or training to avoid the risk of another casualty."
The level crossing has warning lights but no barriers.
Mr Sheridan said the crossing needed an "upgrade".
"You just get so many people who want to chance it - and they do," he said.
"Even I attempted it once, and I live here."
Network Rail said it already had plans to install half-barriers at the crossing and they should be in place by April.