Great East Swim at Alton Water cancelled this year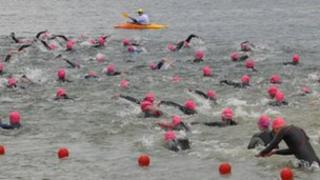 An open water charity swimming event in Suffolk, which was postponed due to the weather, will not take place at all this year.
Thousands of swimmers were expected at Alton Water near Ipswich on 22 June but it was postponed due to forecasts for strong winds.
The organisers said they have been unable to find a new date which suits Alton Water and its safety teams.
The Great Swim Series organiser said it was sorry, but safety was its priority.
'Dangerous conditions'
Last year the swim was put back by 24 hours due to weather problems, but this year the adverse winds were forecast to continue into the next day as well.
Alex Jackson, event director, said: "It would have led to dangerous swimming conditions and meant support kayaks, which are instrumental in monitoring swimmers on course, would not have been able to operate effectively.
"It has not been possible to find a date that would allow us to guarantee both venue availability and the necessary levels of water safety to restage the event during the remainder of the open water swimming season.
"We are extremely sorry to cancel it, but the safety and well-being of our participants will always be our overriding priority."
The organisers said people would be refunded their entry fee and offered a discounted entry fee for the Great London Swim which is due to take place on 31 August.