Leiston Abbey archaeological dig: people pay to join work party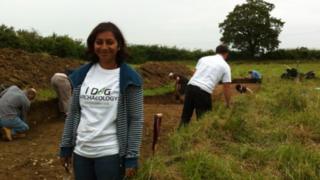 More than 100 people have paid to join an archaeological dig in Suffolk.
The first ever excavations are taking place at Leiston Abbey, which was founded 650 years ago.
DigVentures has raised £18,000 by charging people to join the work party - starting at £135 a day.
Brendon Wilkins, project director, said: "It's about building an audience for very important archaeological research and allowing them to roll their sleeves up and get involved."
The work party has begun digging trenches in the search for artefacts and information about the abbey, which was founded on the site in 1182, with the current ruined buildings dating from 1363.
Hunt for mill
The field school's manager for the project is Raksha Dave, who was one of the archaeologists on the television programme Time Team.
Ms Dave said: "We're looking for evidence of industry, agriculture and things associated with their daily lives.
"We are wondering if channels revealed by mapping are associated with a mill and it would be amazing if we found parts of a mill they were using to make bread."
The project charged £235 for people to work for a weekend, £475 for a week and £875 for a fortnight.
The dig is due to last until 14 July and includes a free family open weekend on 6 and 7 July.
The site is owned by English Heritage, but operated by the Pro Corda music school.