£1,000 reward for dragons stolen from old Farnham pub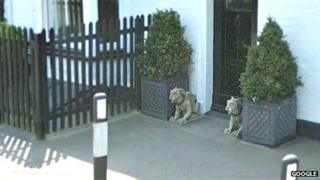 A £1,000 reward has been offered for the return of two stolen Suffolk dragons which are considered a local landmark.
The 2ft (60cm) tall statues, were outside a house in Farnham on the A12 and were often dressed to mirror topical events such as Wimbledon.
Owner Rosemary Conibeer said the dragons were wearing tennis visors when they were taken on Thursday.
"Everyone feels they bring a bit of fun to their journeys," she said.
Jubilee tiaras
Mrs Conibeer and her husband Mark have had the dragons on display since they moved into the former George and Dragon pub.
The two which were stolen were a gift from Mrs Conibeer's mother, who shortly afterwards had a stroke and is now in a care home.
"The intrinsic value is nowhere near [the £1,000 reward]," Mrs Conibeer.
"I could go stick other dragons out there, but these are the dragons my mother bought me and we want them back."
Mrs Conibeer said they had built up a bit of a cult following and they had been "inundated" by people expressing their sadness at the theft.
Strangers also often added things to them, she said.
"The Queen's jubilee was the best - one very nice but slightly embarrassed middle-aged man knocked on the door," said Mrs Conibeer.
"He had two tiaras which his daughter wanted to put on the dragons as she felt they were under dressed for the occasion."
Suffolk Police said it was aware of the theft of the dragons, which had been chained to the wall.