Ufford phone box becomes 'smallest library'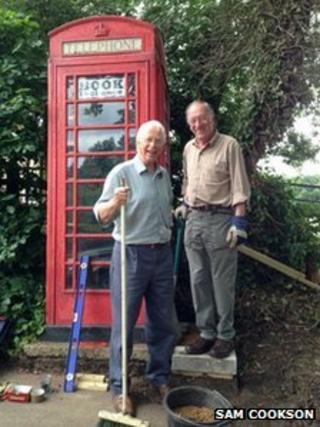 A village phone box which has sat unloved for more than 10 years has been converted into a book exchange.
Neighbours David Berridge and Brian Taylor cleaned the red box and fitted shelves before kitting it out with the first batch of books.
"It's the smallest library in the village," Mr Berridge said.
"It's also got a notice board, called Ufford Twitter, so if someone has a bike for sale or whatever they can pin it on there."
Mr Berridge said the work was carried out after the subject of the discarded phone box was discussed at a recent WI garden party.
"We put shelves in it, dusted it out, swept it out, cut all the nettles from around it and put a paving slab to make the door open easier," Mr Berridge said.
"We're calling it the book exchange, rather than the telephone exchange."
It was free to set up, with the wood for the shelves coming from Mr Taylor's old staircase.
The book exchange opened at the end of last week and so far has a selection of 30 books, with the number expected to double once word spreads.
This will happen via the village circular email and there might also be an opening party.