Sex offender Robert King's Long Melford concert is 'disturbing'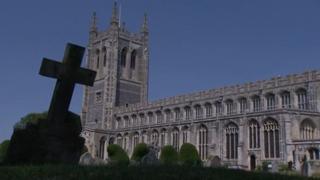 A charity has criticised the decision to book a convicted sex offender to perform at a church concert in Suffolk.
Conductor Robert King, who was jailed for indecently assaulting young musicians, is due to appear next month at Holy Trinity Church, Long Melford.
The National Association for People Abused in Childhood (Napac) said it was "deeply disturbed" by the news.
Mr King, 53, of Alpheton, Suffolk, said: "I accepted my sentence and have paid my debt to society."
Mr King, a leading orchestra conductor who has worked on Hollywood film scores, was jailed in June 2007 for three years and nine months for sexually abusing five boys.
Resumed career
He was convicted of 14 counts of indecent assault between 1982 and 1995. He had plied the boys with alcohol, Isleworth Crown Court was told.
Mr King served nearly two years of his sentence and was released in 2009, resuming his musical career.
He has worked on music for Ridley Scott's Kingdom Of Heaven, Shrek 2 and The Da Vinci Code.
He is founder and musical director of The King's Consort orchestra and choir, booked to appear at a concert at the church on 31 August.
It is due to perform The Coronation of King George II in aid of the charity Music in Country Churches.
'He's been rehabilitated'
"Robert King has been convicted of very serious crimes against children," said Peter Saunders, chief executive of Napac.
"I'm astounded that he was not banned from working with children or young people. I'm deeply disturbed that he feels it's OK to put himself on a public platform once again."
He said rather than attend the concert, people should make a donation to Music in Country Churches.
Patrick Kohler, a spokesman for Holy Trinity Church, said: "Mr King has been rehabilitated into society and is bringing some wonderful music to people around the world.
"I don't think it's up to us to make a value judgement on this. We see ourselves as essentially the venue managers.
'Rock-solid love'
"We're really not responsible for the choice of the programme, the music or any of the participants."
Mr King said he had been fortunate to have the "rock-solid love" of his family and support of friends and colleagues since his release from jail in 2009.
"I believe that I do have something to contribute to society, both through my published musical research, and through the performances and recordings of The King's Consort," he said.
He said the orchestra provided work for "some truly outstanding musicians" and brought beauty and pleasure to many people.
"Not everyone is given a second chance. I have been, and I am grateful for that," he added.
Music in Country Churches declined to comment.