Southwold cliff Ladies Walk footpath work to begin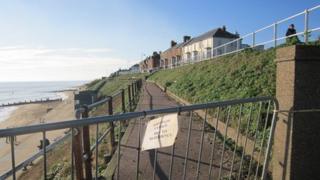 Work to restore a century-old footpath on an eroding cliff in Southwold is about to get under way after three years of closure.
Ladies Walk, on the seafront between the lighthouse and pier, was shut by Waveney District Council in 2010 on safety grounds.
Engineers estimated it would cost over £150,000 to rebuild the footpath.
The work is being funded by the sale of new beach huts, in a town where some have fetched over £100,000.
The footpath was originally built in the 1900s but it was undermined by burrowing animals and ongoing erosion.
Edwardian engineering
Norwich-based engineers Canham Consulting said work would begin this month shoring up the cliff and building a new concrete footpath with a retaining wall.
They will restore the original railings, which were made in Ipswich.
Brian Wilkins, principle engineer, said: "The original Edwardian engineering had fallen victim to soil creep and cliff collapses caused by rain action and rabbits."
The work is expected to be finished in November.
Waveney District Council said it had built seven new beach huts north of the pier and at Gun Hill, which have raised £443,866 in sales and will provide ongoing revenue from leases.
Five more are planned and the council said the revenue which was not spent on the cliff would be reinvested in other council services.