Toni Muldoon and £5.7m escort scam gang members jailed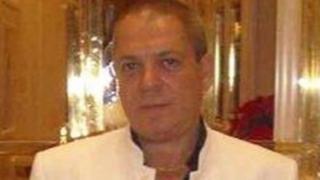 A conman who ran a £5.7m escort scam which ripped off thousands of people in the UK has been jailed for seven and a half years.
Toni Muldoon, 66, was told by judge Rupert Overbury at Ipswich Crown Court that he was a "thoroughly dishonest, manipulative and mean individual".
He ran bogus companies which duped people into signing up for non-existent escort work or debt elimination scams.
Five other gang members were jailed for their part in the fraud.
Some 14,000 people paid between £250 and £400 to register for the non-sexual work, according to Suffolk County Council which investigated the scam.
About 3,300 others gave between £540 and £2,000 to be part of a scheme which claimed to write off credit agreements.
'Good name'
The judge said Muldoon, who was based in Spain, was the "architect" of the scams but the others had played "vital roles without which these schemes could not have succeeded".
Former West Yorkshire Police detective Christopher Taylor, 57 of Wakefield, was sentenced to three and a half years in jail for money laundering.
The judge said he had sacrificed his "reputation and good name" for money.
Bradley Rogers, 29, from Malaga, was jailed for two years and 10 months after being found guilty of money laundering.
Both Rogers and Taylor had been cleared of conspiracy to defraud.
Mark Bell, 41, from Westerfield, near Ipswich, Colin Samuels, 62, of Redgrave, Suffolk, and Geraldine French, 60, from Spain, were each found guilty of two counts of conspiracy to defraud.
Bell was sentenced to six years and six months, Samuels to five years and six months and French to six years and five months.
Jeffrey Owens, 64, of Colyford, Devon, had already admitted money laundering. He was given a 12-month sentence, suspended for two years.
Efforts will now be made to seize the gang's assets through the courts.