British Jigsaw Championship makes debut in Newmarket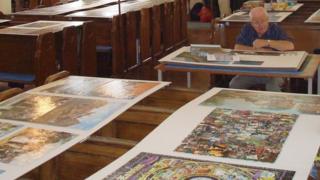 A Suffolk church is staging what organisers claim is the first British Jigsaw Championship.
It is part of the 3rd Annual Jigsaw Festival which is taking place at St Mary's in Newmarket until Thursday, 18 July.
Judy Paxton, organiser, said: "Somebody was researching and discovered there isn't a British championship so it grew from that.
"There are competitions in the US, but there's no world cup either."
The championship, which takes place at 10:00 BST on Sunday, will consist of entrants doing the same 1,000-piece puzzle at the same time, but the identity of the jigsaw is not being revealed ahead of the start of competition.
Ms Paxton said: "[Jigsaw puzzlers] are very wily people and they might go on the internet and look at it in advance and plan their strategy."
The organisers expect the winner to finish in a time of around two hours and the prize will be £50.
The festival features a changing display of more than 500 completed jigsaws as well as jigsaws for visitors to put together.