Bishop of St Edmundsbury will be Rt Rev David Thomson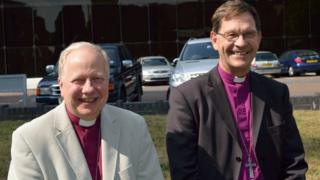 Another East Anglian bishop is to take the top Anglican job in Suffolk when the current Bishop of St Edmundsbury & Ipswich becomes Bishop of Lambeth.
The Right Reverend Nigel Stock is to become Bishop at Lambeth in October after six years in Suffolk.
His place will be taken by the Bishop of Huntingdon, The Right Reverend David Thomson, 61, who will be interim Bishop of St Edmundsbury.
He will continue to act as Bishop of Huntingdon at the same time.
The Church of England said Bishop David will serve in Suffolk until a permanent replacement for Bishop Nigel is found.
Bishop David said: "It is a great privilege to be asked to work as a shepherd for Christ's people as they wait for a new Diocesan Bishop.
"I pray that I will be able to help them to continue to grow in faith, deepen discipleship and share richly the good things God has given us with the communities we serve."
The Very Reverend Dr Frances Ward, Dean of St Edmundsbury Cathedral, said: "I know Bishop David and have every confidence that he is the right person to undertake this unusual role."
Bishop David was born in Sunderland, grew up in Sheffield, trained for the ministry at Selwyn College & Westcott House in Cambridge and his first clerical post was as a curate at Maltby near Sheffield.