British Jigsaw Championship won by Emma Jenkinson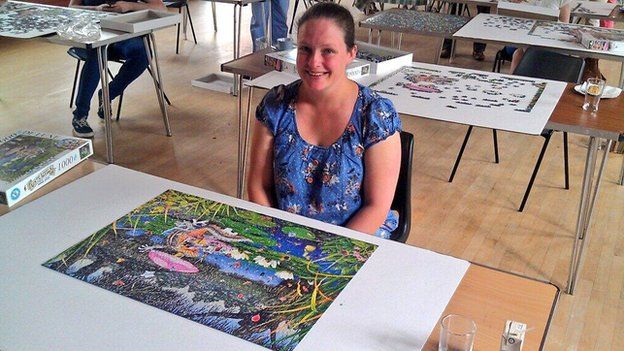 The winner of what organisers say was the first British Jigsaw Championship said she was delighted but shocked to be crowned champion.
Emma Jenkinson, who teaches at a primary school in Gloucestershire, beat seven other people to win the competition in Newmarket.
"Jigsaws are a solitary hobby so you don't know how good you are," the 31-year-old said.
Ms Jenkinson finished the 1,000 piece puzzle in 171 minutes.
Competitors at the event, which was held at St Mary's Church as part of the 3rd Annual Jigsaw Festival, were each given a copy of a puzzle called "****** as a Newt".
Ms Jenkinson, who teaches at Bledington Primary near Chipping Norton, said. "It was harder than I thought it would be, but it was do-able.
"I do the edges first and then go for large expanses of colour, but everybody did it in a really different way."
Ms Jenkinson, who said she does two or three jigsaws a month at home, drove to Suffolk for the championship.
"I've done jigsaws for as long as I can remember and it appealed to me to take it to a competitive level.
"Friends and colleagues, although they thought it was a bit out-of-the-ordinary, encouraged me to enter.
"I never thought I'd be a British Champion in anything and I'm delighted, even though there were only eight entrants."
The prize was getting to keep the jigsaw and £50, which Ms Jenkinson said would cover her travel expenses, night at a bed and breakfast and £5 entry fee.
Organiser Judy Paxton introduced the competition at the festival after her research showed, to her knowledge, that there was no British championship in existence.
"The winner was much faster than everyone else and we will introduce a second and third prize next year," she said.
The new champion said: "It's not on a par with Andy Murray winning Wimbledon or anything, so I wasn't expecting this level of interest.
"Hopefully more people will enter next year and the competition will now keep growing after its debut."
Related Internet Links
The BBC is not responsible for the content of external sites.