Extra money to increase flights at RAF Lakenheath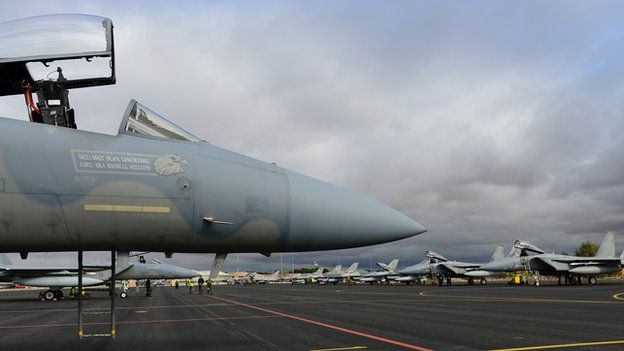 Normal service has resumed at a Suffolk airbase which reduced flights in April due to cuts in American defence spending.
RAF Lakenheath, in Suffolk, had grounded some of its 75 F-15 jets but returned to its "standard flying schedule" on Monday.
The US government has given $423m (£280m) to temporarily restore flying hours at bases around the world.
It means flights at RAF Lakenheath can return to normal until October.
The jets usually fly for a total of 20,000 hours a year.
Being able to fly longer will help with "crucial training" and development for aircrew and support personnel.
Col Mark Ciero, 48th Fighter Wing vice commander said: "While we are pleased to be able to resume our regular flying hour programme, we should remember that this is not a permanent solution.
"We need to ensure that our aircrew and support personnel receive the best training possible via whatever means we have available, both now and in the future."
Related Internet Links
The BBC is not responsible for the content of external sites.