Ipswich tidal flood barrier work begins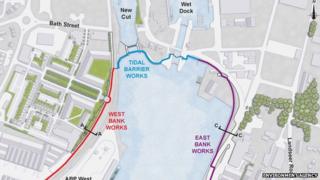 Work has begun on a £38m flood barrier which is designed to protect 1,900 homes and businesses in Suffolk.
The barrier is being built at the mouth of the New Cut of the River Orwell on Ipswich waterfront.
A ground breaking ceremony has taken place and the work is expected to take five years.
The Environment Agency said it would protect 1,500 homes and 400 businesses. The government said it was an "important economic area" to protect.
Richard Benyon, minister at the Department for Environment, Food and Rural Affairs (Defra), said: "We recently remembered the 60th anniversary of the 1953 east coast tidal flood in which 400 people lost their lives and we wanted to make sure we're protecting big, important economic areas like Ipswich.
"We know we get £8 back for every £1 spent on flood defences in terms of benefits to the economy, regeneration and people not making claims on their insurance."
Planners estimate the 400 businesses are responsible for 4,000 jobs in the town centre.
Charles Beardall, area manager for the Environment Agency, said: "As sea level rise increases, we need to make sure Ipswich gets the protection it needs.
"With 1953, it's not if it's going to happen again, it's when."
Ben Gummer, Ipswich MP, said: "By ensuring we will have the best protection possible from the risk of flooding, the scheme will be a signal to developers that we can now get cracking with the patchwork of disused sites that lie around the centre of Ipswich."